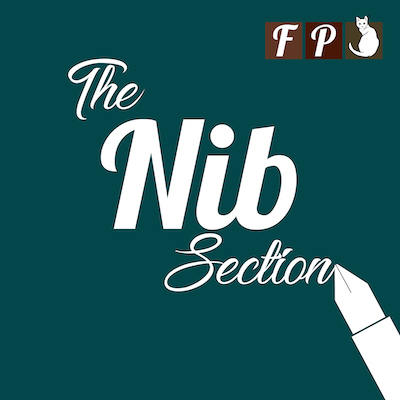 We're back! Kicking off the new year with the start of a new series of interviews with fountain pen collectors (loosely defined). We'll delve into their habits, the histories of their collections, try to work out if there is method to the madness. All in pursuit of an answer to the eternal question: Can users and collectors peacefully co-exist?
The first guest for the Collectors Series is Mr. Nicholas Gold. Keep an eye out for further interviews in the series as we head into the 2018.
The Nib Section is the official podcast of Fountain Pens Oceania.
You can always email us at thenibsection@gmail.com
Go like us on Facebook!
Follow us on Twitter and Instagram.
The hosts were Chuck Montano, Christina Kowalin and Aidan O'Brien. The guest was Nicholas Gold.
FORMAT
00:55—What We Are Writing With
Christina: Visconti Homo Sapiens Dark Age, Pilot Vanishing Point Matte Black, Pilot Custom Heritage 92 
Aidan: Visconti Homo Sapiens Caput Mundi, Pelikan M805 Stresemann
Chuck: Pilot Custom Heritage 92
Visit our Facebook or Instagram for photos of What We Are Writing With.
02:11—Mailbag/Reviews
If you want to make your podcasters happy, leave us a comment or review on our iTunes, Facebook, Twitter or Instagram.
03:33—Choose Your Side: Users vs Collectors
An inspiration for the series, though not mentioned in the episode, was Ed Jelley's blog post: Bloggers Weigh In: Collecting Fountain Pens vs Using Fountain Pens.
09:23—Interview: Nicholas Gold
Montblanc Hemingway Writers Edition
Pictures of Nicholas' fountain pens, including the stunning OMAS celluloids
Sydney Pen Show
CalliCon 2017
Col-o-ring Ink Testing Book
Field Notes
OMAS 360 Arco Bronze
John Mottishaw
Pilot Vanishing Point Raden Minamo "Water Surface"
Sailor Profit 1911 Large Aqua Blue
Montblanc Meisterstuck 146 90th Anniversary
Nicholas' blog: Quillidyllic
IG: @quillidyllic
Twitter: @youstruckgold
54:07—News
Pelikan Edelstein Ink of the Year Olivine
Platinum 3776 Oshino
Unknown new Visconti Homo Sapiens model
55:18—Recommendations
Uncharted: The Lost Legacy
Luxumbra
58:09—Thanks and Credits
Producers: Diana Dai, Chuck Montano, Sharyn Zha, Patrick Antolovich, Denise Tang.
Recording and editing: Patrick Antolovich, Denise Tang.
Special thanks to Nicholas Gold.
Music: Michael Pearce.
Logo: Will H. Smith.
Logo artwork: Melissa Graf.