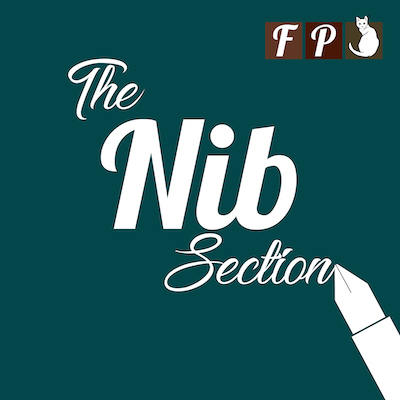 Why do we get attached to our possessions? In this episode, we explore the emotion-riddled relationship between us and material objects, and what our fountain pens mean to us. 
The Nib Section is the official podcast of Fountain Pens Oceania
You can always email us at thenibsection@gmail.com
Go like us on Facebook!
Follow us on Twitter and Instagram
The hosts were Chuck (@entree3000_), Sharyn (@sharynzha), and Diana (@thegrynne).
FORMAT
00:38—WWAWW
Diana: ST Dupont Phoenix Renaissance F w/ KWZ Baltic Memories
Sharyn: Nakaya Long Piccolo Cigar Kikyo SF w/ Montblanc Encre du Desert
Chuck: Pilot Decimo Earth of Watarase "Mita Sansho temple original" w/ De Atramentis Document Black
07:31—Feedback
De Atramentis Document White Ink - Liz Steel
13:30—TNS Giveaway
From March 1st-14th AEST, we will be holding a drawing competition with some pre-loved pens from our personal collections to give away:
First prize: Lamy 2000 Makrolon BB stub w/ Sailor Kin-Mokusei

Runner-up: Opus 88 Koloro Orange/Yellow M with TAG Kyo-iro Stone Road of Gion
To enter the giveaway, make sure you do the following:
Following

@thenibsection

on Instagram.

On your own IG account, post a drawing of an animal that you have done with a fountain pen, tagging @thenibsection and including the hashtag #TNSPetSketch in your post.

You may enter as many times as you like.
Giveaway closes 23:59 March 14th, and the winners will be selected by the hosts and announced on March 15th.
19:06—News
Vintage Aurora 88 - pelahale
Aurora Hastil - IguanaSell
Montblanc Noblesse - Paulo's Pen Posts
Lamy Logo - Dymocks
Aurora Mar Adriatico - Aesthetic Bay
Aurora 75th Anniversary Optima - Peyton Street Pens
Pilot 100th Anniversary Inks - @_althaven
26:04—Emotional attachment to pens
What do your fountain pens mean to you? Has this changed over time?

Is there a pen that is particularly meaningful, and why?

Do you feel more connected to a pen when you have had it for a long time, or when you know its history?

What do you think your pens say about you?

How would you feel if all your fountain pens were lost in a fire? Would you want to find exact replacements for your favourite pens or would you start over afresh?
Dr Christian Jarrett, "The Psychology of Stuff and Things" - The Psychologist
01:15:53—Recommendations
1:23:24—Thanks and Credits
Producer: Chuck Montano, Sharyn Zha, Diana Dai and Alisdair Daws.
Recording and editing: Diana Dai and Alisdair Daws.
Special thanks to: Liann, Kaz, Adam, Nicholas, Paul, Haohan, Kevin, Leonie, Hannah, Yagan, Evelyn and Louise.
Music: Michael Pearce.
Logo: Will H. Smith.
Logo artwork: Melissa Graf.