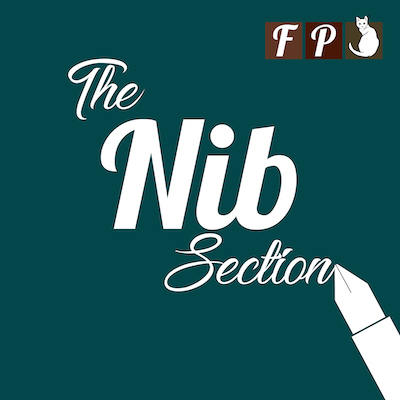 Our hosts tackle your questions about fountain pen nibs - what they are, what we love about them, and why they (sometimes) give us so much trouble.
The Nib Section is the official podcast of Fountain Pens Oceania.
You can always email us at thenibsection@gmail.com
Go like us on Facebook! www.facebook.com/TheNibSection/
Twitter: @thenibsection
Instagram: thenibsection
The hosts were Diana Dai, Taveet Sinanian, Sharyn Zha and Patrick Antolovich.
FORMAT
02:12—What We Are Writing With
Tav: Visconti Homosapiens Dark Ages, Edelstein Smokey Quartz
Sharyn: Caran d'Ache Hexagonal Carbon Fibre, Sailor Penlux Cobalt Blue
Patrick: Lamy Joy 1.9mm, Bookbinders Red Belly Black
Diana: Aurora Optima Black Pearl EF, Kobe Tao Black
08:27—The Basics
Nib shapes, materials, and the grinds they come in, both the mundane and the exotic.
Resources:
36:55—Reviews/Mailbag
38:52—Let's Talk About Flex, Baby!
A reminder to flex with caution!
David Nishimura's posts on nibs at The Vintage Pens Blog
47:47—News
TNS now has an Instagram
49:16—Nib FAQs
How would you make a nib wetter or dryer? (Quentin)

Are there people who can retip nibs? (Maria)

Have you used any of the Sailor specialty nibs? How easily can we get our hands on them? (Maria)

Is the cost of warranty the only thing stopping modern penmakers from making vintage wet noodle nibs? (David Brennan)

Which companies should you try before you buy due to QC issues? (Sunelle)

Which non-branded nibs would you recommended? And which pens can you swap out the nibs on? (Sunelle)
Goldnibs.com and Greg Minuskin can retip a nib. Despite the mention in the episode, it appears that John Mottishaw no longer offers retipping services over at Classic Fountain Pens.
The Desiderata Pen Company make hand-turned pens that will take a calligraphy dip nib.
1:01:26—Recommendations
1:15:24—Credits
Producers: Diana Dai, Taveet Sinanian, Max Schumacher, Patrick Antolovich, Denise Tang. 
Recording and editing: Patrick Antolovich, Denise Tang.
Music: Michael Pearce.
Logo: Will H. Smith.
Logo artwork: Melissa Graf.