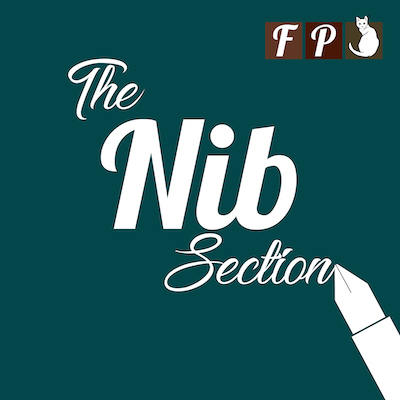 In this...somewhat tipsy end-of-year episode (prerecorded in November), we answer your questions about our favourite nibs, most memorable fountain pen experiences, reflections on a year and a half of podcasting, and much more! 
Happy holidays to all our listeners! 
The Nib Section is the official podcast of Fountain Pens Oceania
You can always email us at thenibsection@gmail.com
Go like us on Facebook!
Follow us on Twitter and Instagram
The hosts were Chuck (@entree3000_), Sharyn (@sharynzha), Melissa (@missdgraf), Brian (@briansaputro) and Diana (@thegrynne). The excellent pup who was (mostly) silent throughout the recording was Sebastian (@sebby.lion).
FORMAT
01:39—What We Are Writing With
Sharyn: Sailor Nagasawa Black Proske "Brosque" Zoom w/ Sailor Kin-Mokusei
Diana: Opus 88 Demonstrator with Regalia Crown Epilogue w/ Iroshizuku Yama-budo
Melissa: Caran d'Ache Ecridor XS Couture Rose Gold with Swarovski Crystal
Brian: Omas Milord Arco Brown w/ Sailor Rikyu-Cha
Chuck: Aurora 88 Minerali Amber BB and Aurora 88 Sole M
10:50—Q&A
Therese Brand: I'd love to have a better understanding of the different flex nibs vs waverly/cursive/italic, stub/music, zoom nibs etc from the different brand...pros & cons, your own preferences and why?

Ayeneneyeee: What has been your favourite fountain pen related experience, fact, or skill you've learnt this year?

Ayeneneyeee: Fountain pen goals for next year? This can be a pen (or let's be honest, pens) you're chasing, a new direction for your collection (russian vintage or even a big cull?), or maybe you're considering exploring new terrain (e.g. nib tuning, urban sketching, ink making...).

Sharyn: How much ink is "enough"?

Father Kyle: Self reflections on doing a full year of podcasting about pens.

Paperlate: It seems like a few of you have extensive Japanese pen collections; it would be great to hear what some of your favourite pens are in each of your collections.

Tinybadge: What sub-$50 fountain pens can you all recommend?

Sharyn: Biggest FP surprise and biggest disappointment this year?
Episode 28 - The Sound of One Pen Being Tested
Pilot Waverly Nib Review - The Well-Appointed Desk
Sailor Zoom Nib Review - Parka Blogs
Regalia Writing Labs Crossflex Nib
Episode 27 - "Horses for Courses" plus Sydney Pen Show Recap
Episode 14 - Analog Strikes Back
TWSBI Eco Transparent Blue - My Hearty Timber Box
TWSBI Eco Transparent Blossom Red - LarryPost
The Wink Pen: A Review - The Pen Addict
Yachingstyle Glass Nib Fountain Pen
Opus 88 Demonstrator - Desk Bandit
Opus 88 Koloro - Pen Classics NZ
1:20:27—Recommendations
Wear comfy shoes to your parties
1:31:28—Thanks and Credits
Producer: Chuck Montano, Sharyn Zha and Diana Dai.
Recording and editing: Sharyn Zha and Diana Dai.
Music: Michael Pearce.
Logo: Will H. Smith.
Logo artwork: Melissa Graf.