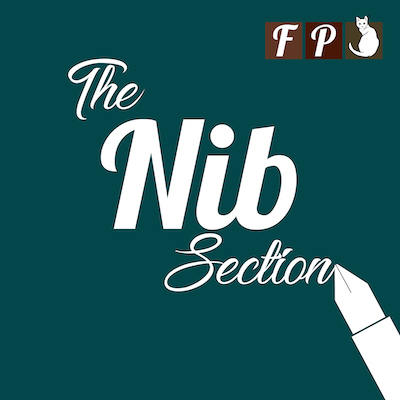 Leo Fok, self-described "casual buyer of pens", was in Sydney recently, and joined Diana, Sharyn et co. for a long, free-pouring lunch, where they eventually got around to talking about his collection and collecting habits. 
The Nib Section is the official podcast of Fountain Pens Oceania
You can always email us at thenibsection@gmail.com 
Go like us on Facebook! 
Follow us on Twitter and Instagram 
This episode features Leo (@inquisitivequill), Diana (@thegrynne), Sharyn (@sharynzha), Brian (@briansaputro) and Ada. Dogs of the pod, Lance and Sebastian, also lent their voices. 
FORMAT
00:33—Leo Fok  
Previous episodes in the Collectors Series:
Previous episodes that Leo has guested in:
Controversy Over The Early M900 Toledo - The Pelikan's Perch 
Sailor Pro Gear Umeda Chayamachi store exclusive, "snow, moon, wind, and flowers" - @inquisitivequill 
Sailor Pro Gear Morita Robin Blue and Sailor Pro Gear 雪月風花 "Wind" from Umeda Chayamachi compared - TNS on FB 
Namiki Custom Impressions - TNS on FB 
Pilot 100th Anniversary Limited Edition Fountain Pens Press Release 
Aurora Internazionale Fountain Pen - Novelli Pens 
Pilot Custom 823 - Tokyo Pen Shop 
Pilot Custom Urushi - Anderson Pens 
Pilot Sakura Fubuki "Sakura Snowstorm" patterned pens - TNS on FB 
Pilot Sakura Fubuki in red and black - @inquisitivequill 
Diamine Lion Rock (狮子山) Fountain Pen Ink - @muzepens 
Leo's profile in Shumi no bungu bako - TNS on FB 
Shumi no bungu bako Volume 50 - Amazon 
Review: M805 Anthracite Stresemann (2015) - The Pelikan's Perch 
Pelikan Souverän M800 Tortoiseshell Brown Review - Scribalishess 
Pilot Sokuikinen HouOu Phoenix Coronation Pen - Elephant & Coral 
Aurora launches the Goccia Nib - Aurora Pen 
Aurora Optima Coral Red 365 & the Goccia Nib! - Mike Matteson 
The Two Super Ultra 500 - Crónicas Estilográficas 
59:04—Thanks and Credits 
Producer: Diana Dai.
Recording and editing: Diana Dai. 
Special guest: Leo Fok.
Music: Michael Pearce. 
Logo: Will H. Smith. 
Logo artwork: Melissa Graf.